Have the Electric Company Pay YOU!
90 Million homes in America currently qualify for the new Zero-Money-Down Solar Program. Fill out the Solar Survey and find out how you can take advantage of going green today. Solar technology is now MUCH cheaper than ever before.
ZERO UP-FRONT COSTS
IMMEDIATE SAVINGS
INCREASE VALUE OF HOME
OWN YOUR OWN ENERGY
Create security for you home during outages
Why go Solar and Why Right Now?
Never before has solar become this easily accessible to the majority of the public. 10 years ago Solar energy was more expensive to produce than regular energy, so it was very much out of reach. But because of market demand, the improvement of technology and efficiency, along with Government incentives, it is now CHEAPER to go solar than to continue with DIRTY Energy. (Not to mention better for everyone, and the environment.)
Repeat After Me "There's No Such Thing As Free Solar Government Program".
As an Engineer and insider business owner I'm going to share with you some truths. I found in 2015 that FL was offering a pilot program where 50 homeowners in the entire state could "qualify" for this type of program. Other Federal government programs exist where a very very small amount of people can qualify for such programs.  Truth is your are seeing ads from Marketing companies and they are exploiting these programs only to get you on their hooks.  Do your reseach with your local state's Utility Boards and with your utility company.  Solar costs money to design, engineer, manufacture, sell, ship, install, permit, insure, finance, ect….Its NOT free. The good news, as a wholesale dealer,    I can help you get the best price and value. 
Immediate Savings
In most cases the total cost of the solar system is less than the current electricity bill. Of course every house is different, so make sure you review all the details with your Solar Consultant, but for most cases owners see immediate savings!
Extention of Solar Tax Credit
The Growing Renewable Energy and Efficiency Now (GREEN) Act, which includes a five-year extension of the solar Investment Tax Credit (ITC). The bill would extend and raise the ITC to 30% through the end of 2025!
Zero Out of Pocket Installation
In most cases the home and home owner qualify for zero down financing and included in this is installation and even warranties for the work performed as well as all the equipment.
Highly Qualified Energy Consultant
In order to sell solar we must go through many hours of training in project design, solar panel technologies, inverter training, battery certification, finance training, marketing and busines ethics and much more. We as independent business owners, not salaried employees,  continuously train as the technology advances and government policies change so our customers recieve the best service, system and experience going solar possible.
Inc 5000 America's Fastest Growing Company
best SOL-A Solare Energy Group LLC is a certified independent Powur Sales Consultant. Powur is the platform that we use in order to search and customize the best system for you and access to state of the art equipment at the best prices. Powur is now #43 on the INC5000 America's fastest growing companies, they are A+ rated on the Better Business Bureau and they are a B Corporation which is a corporation that has its highest aim the Public Benefit. Powur is the GC and installer and they have partnered with the best Solar Panel, Invertor and battery manufacturing companies who have the highest quality standards and give the most value.
Increase the Value of Your Home
According to Zillow, homes that added full home solar systems saw their home values increase between 4% – 6% immediately upon installation.
Environmental Impact
One of the greatest benefits of having a full home Solar System and owning your own energy is that you are only consuming 100% CLEAN energy. Because of a decision you made to save money and add value to your home, you have also added tremendous value to the environment, both literally by producing clean energy, but also by the statement that you are making by taking the leap towards something new, in order to create a better cleaner tomorrow. As your neighbors see you making the switch we guarantee they will do the same. If your home qualifies, then it is one of the best things you can do for your home.
An average 1,300 sqft house can have the following environmental and economic inmpact, with a full solar system.
Trees Planted Offsetting Co2
Estimated Value Added to Your Home
Average Electricity Savings
If you live in a place where electricity is over 10 cents per kwh, then most likely your home would see immediate savings upon installation of your solar system. To the left is an example of clean energy production versus energy consumption on a typical 1,500 sqft home. Depending on your homes roof, and many other factors will determine the viability of solar. In most cases if your home does qualify you can get your solar for zero down, and zero out of pocket, and your investment will be less than your current electricity bill per month. This savings can be anywhere from $20 – $100 per month or more! Thus, you are already saving day one.
Why SOL-A Solar Energy Group LLC.?
We are certified Solar Specialists and Energy Consultants with Powur PBC. We align with Powur's mission which is: "Accelerate the adoption of CLEAN energy WORLDWIDE".  We use the innovative Powur platform to examine your roof, see if you qualify, and see what the maximum amount of solar energy you can produce with your roof. We believe in a cleaner world for our children and have made it our mission to help Powur in theirs. With our excellent customer service, and Powurs' platform and access to the best technology, we can make your solar transition easy and seamless.
Power PBC has an A+ rating with the Better Business Bureau, is an Inc 5000 America's fastest growing companies. In addition is a certified B corporation which means they put public benefit at the top of their priorities. They give a percent of every sale to re- plant forests in the Amazon that have been destroyed due to dirty energy and also create clean water, housing and energy projects in needed communities.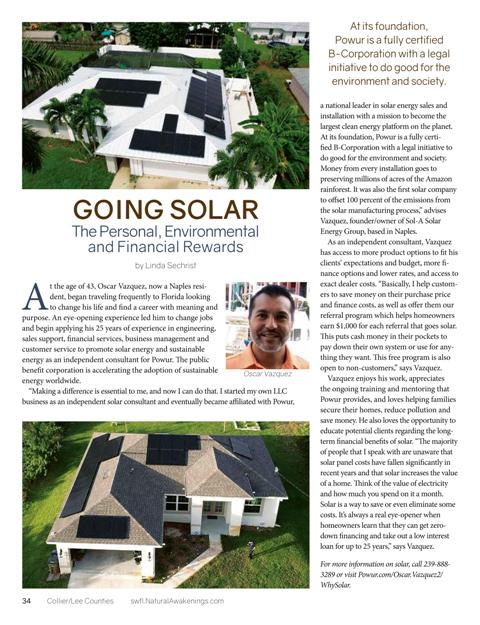 CALIFORNIA    NEVADA   UTAH   ARIZONA   COLORADO   NEW MEXICO   TEXAS   FLORIDA   ILLINOIS   SOUTH CAROLINA   NORTH CAROLINA   VIRGINIA   MARYLAND   DELAWARE   NEW JERSEY   PENNSYLVANIA   CONNECTICUT   MASSACHUSETTS  IDAHO  HAWAII  PUERTO RICO   
10 Most Frequently Asked Questions
What is Net Metering?
Net Metering is a billing mechanism that credits solar energy system owners for the electricity they add to the grid. For example, if a residential customer has a PV system on their roof, it may generate more electricity than the home uses during daylight hours.
How do Solar Warranties Work?
A solar panel has two warranties: a performance and equipment guarantee. A solar panel's performance warranty will typically guarantee 90% production at 10 years and 80% at 25 years. An equipment warranty will typically guarantee 10-12 years without failing.
How Do I Know if My Roof is Fit for Solar?
Things to consider:
Sun exposure: we analyze from satalites for proper solar access
Orientation: what direction are panels facing? East, South and West Orientation
Is your roof material right for solar and is it viable to add solar panels? Is your roof too old? Is it big enough?
Between satelites and our software we can tell by looking at your roof exactly how much money you can save by going solar.
What is Involved in Going Solar?
Make sure that you qualify
Survey home
Approve your proposal
Initial site survey
Engineering department creates the plans to submit to the city on your behalf
Once approved we can schedule your solar installation
Installation occurs
Final inspection
Permission To Operate: Power up and commence using your solar system
Two Options for Purchasing Energy
When it comes to purchasing energy, you essentially have two options; continue to rent dirty energy from the utility company and face ever-increasing rates or choose to take control of your power by installing solar in your home.  We will recap all the benefits of going solar and how incredibly easy it is to make the switch. your solar system
What is the Solar Investment Tax Credit?
The solar Investment Tax Credit (ITC) is one of the most important federal policy mechanisms to support the growth of solar energy in the United States. … SEIA also supports legislation that would extend benefits of the Investment Tax Credit to energy storage.
Is Solar A Good Investment For Me?
Solar is one of the few investments that pay you back in energy!  learn more about how solar can add anywhere from $10-50K to the value of your home.
If you live in an area with high energy rates and a suitable solar rating and can afford the initial investment, it's worth installing solar panels in your home while the 26% tax break is in place — for the good of the environment and your wallet. But don't expect to eliminate your power bill overnight.
Think Solar is too Expensive?
Not when you don't have to come up with any money out of pocket Zero down loan
Finance your solar system through your loan provider
Instead of paying utility company you pay the loan provider and keep the difference
Each payment is equity into your solar system
Do I Need to Buy a Battery?
Your solar panels will produce more electricity during the long days of summer than they will in the winter months. To go completely off the grid, you will need a battery system that can store significant amounts of extra energy in the summer months so that you can meet your electricity needs in the winter.
How do I know what Equipment to Buy?
There are many companies offering off brand solar panels, and kits online from Ebay to Amazon. While there may be one or two good ones, when it comes to a project as large as powering your entire home with solar it is always recommended to go with a trusted brand and company that has been producing high quality yet affordable solar panels and inverters. Mission Solar, LG, Panasonic, Hanwah, Jinko, Enphase and Solaredge offer the highest quality and most efficient options.
As a A+ Accredited Business, Powur is committed to make a good faith effort to resolve any consumer complaints
As an Inc. 5000 company, Powur is constantly investing in improving our services in service to you and to the planet. In 2021 we became the #61 fastest growing private company in the USA out of 35,000,000
As a Certified B Corporation, Powur meets the highest standards of verified social and environmental performance, and public transparency, to balance profit and purpose.
Reviews
Hear from just a few of our happy and satisfied clients.
Our Roof is Making Us Money
"We put 18 solar panels on our roof and we're saving about $100 per month, which will equate to about $30,000 in savings over the life of the system. We couldn't be happier with how everything turned out."
– Daniel E.
100% Satisfecho con el Valor
"Soy un astuto reductor
de costos, y fue atractivo para mí saber que mi costo inicial para obtener energía solar era de $0. La energía solar es eficiente y me gusta mucho la independencia que podría otorgar con el almacenamiento de energía. Creo que fue una sabia decisión escoger la energía solar"
– Roberto T.
Excellent Service
"Our consultant went above and beyond and our installers were awesome. You could not ask for a more professional group of men."
– Debbie C.
Powur solar homeowner stories - Juan Ponce
Powur solar homeowner stories - John Paris
Powur solar homeowner stories - Amish and Puja
Powur solar homeowner stories - Kristy
A few of our recent client videos
Se hable Español
Hoy tienes otra opción sobre cómo obtienes electricidad en tu hogar. Ya no tiene que pagar tarifas cada año más altas por la electricidad que se le entrega a su hogar. Comienzando hoy, puede convertir el dinero que paga a la compañía eléctrica a una inversión que haga en su hogar y en su futuro financiero. Comuníquese conmigo para obtener más información para ver si califica. Mis datos de telefono y email estan abajo.
Haz Click Aqui